U12s County League Squad 2018-19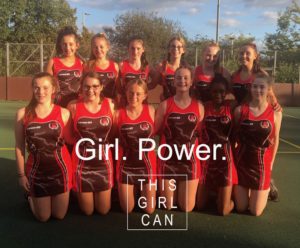 U14s County League Squad 2019-20
Laurel Park Netball Club are a Silver accredited CAPS club.
England Netball's Club Action Planning Scheme or CAPS is aligned to the Sport England Clubmark accreditation scheme which is the only national cross sports quality accreditation scheme for clubs with junior sections. It is built around a set of core criteria which ensure that accredited clubs operate to a set of consistent, accepted and adopted minimum operating standards.
Clubs achieving this accreditation are recognised nationally as having a well-run club which is ACTIVE and ACCESSIBLE. This means getting the best out of young people and giving everyone a sporting chance.
All Laurel Park Coaches working with U18s have been DBS verified and all sessions are led by a L2 Coach.
At Laurel Park Juniors our focus is on participation.
We aim to develop confidence, enjoyment in the sport & encourage skill improvement and game understanding.
We feel it is important to have a very broad foundation to build on before adding match pressure.
Competition in a formal league requires commitment both on the part of the player and on parental support – for the 2019-20 season we entered three teams into the Berkshire County Junior League (U12s, U13s and U14s).
We review our approach annually – if demand changes – so do we.
For some girls competition is not for them, but we still train together and we hold trials for those that want to compete.
Currently our Years 8 and 9 are full, please complete the registration form to be added to the wait list, we will contact you if a space becomes available.
For Years 5 to 12 contact juniorenquiries@laurelparknetball.co.uk if you have any questions.
Complete the online registration form before coming to a free taster session.
Mini-Netters
For Years 1 to 4 contact mininetters@laurelparknetball.co.uk if you have any questions.
Complete the online registration form before coming to a free taster session.
Privacy Statement:
Our Registration Form is produced by Laurel Park Juniors Netball Club who as data controller will use the data collected for the following purposes and on the lawful basis as set out below.
– Laurel Park Juniors NC will retain the personal information on the form in order to facilitate your daughter's participation in netball training.
– Information will be used for affiliations to England Netball.
– Data will only be retained whilst a member of Laurel Park Juniors NC.
– We require your daughter's medical information for the purposes of preventive or occupational medicine so that the deliverer can provide a safe environment for your daughter, this information will only be shared with the Head Coaches in the Club.
Code of Conduct
Code of Conduct for Junior Players
Sponsor   
A big thank you to Woodley & Earley Lions Club for their donation towards the Mini-Netters kit for the 2019-20 season.
Training
Mini-Netters – When & Where:
Sundays – (8th Sept to 15th Dec)
Years 1 & 2 : 9.15 to 10am
Years 3 & 4 : 10.15 to 11am
In the sports hall at John Madeski Academy, entrance via Northumberland Avenue.
Years 5 to 9 / U18s – When & Where:
Mondays – (9th Sept to 9th Dec)
Years 5, 6 & 7: 6.30 to 7.30pm
Years 8 & 9 : 7.30 to 8.30pm – FULL
Thursdays – (12th Sept to 5th Dec)
U18s Years 10 to 13 : 7 to 8pm – FULL
In the sports hall at Arborfield Green Leisure Centre, off of Nine Mile Ride Extension, Arborfield, RG2 9GB – follow directions to Bohunt School.